Mexico has heavily influenced eating habits worldwide since colonial times through the indigenous cultivation of the tomato and avocado, but as our neighbor to the south, its culinary traditions have probably had the largest impact on modern American cuisine.
At this point, there's no doubt you likely know how to pronounce "burrito," and maybe you can even trill the double RR, but every once in a while a customer's order of fajitas sounds like "fah-GEE-tahs" because they were unaware of the silent J in Spanish, which is pronounced as an H sound.
That's where this guide to pronunciation comes in: What are those pitfalls that non-native speakers of Spanish tend to fall into? Generally, the phonetics of Spanish are pretty similar to English, but certain letter combinations can be tricky, like the double LL in quesadillas and chiles rellenos, pronounced as a Y sound, as in "you" and "yield." Then, words ending in E like tamale and pozole usually have an "ay" sound like "hay" or "may."
Sure, you know that the C in tacos is a hard K sound and that the "qui" in taquitos sounds like "kee." But as more regional Mexican dishes find their way over the border and onto menus across the world - or should you be so lucky as to travel to Mexico - it's important to expand your repertoire.
Ever seen a Mexican-style corn on the cob slathered with cheese and chili powder? That's called elote and is pronounced "eh-LO-tay." Once part-owned by the McDonald's Corporation, Chipotle (chee-POHT-lay) is thoroughly American but serves one of Mexico's most traditional styles of meats, barbacoa (bar-bah-KOH-ah), which actually refers to the long, slow method of cooking meat until it's fall-apart tender. Hungry yet?
Flauta - fl-OW-tah
The pronunciation of the "au" diphthong in Spanish is similar to saying "ow" in English, as in: "Ow, I hurt myself." Try to make the "fl" and "ow" sounds fluid rather than staccato. Its direct translation, flute, gives an indication of what to expect when ordering these as a snack or appetizer. Small tortillas are filled with meat such as chicken or beef and then rolled up to resemble a flute and fried to a crisp. Flautas are basically the same thing as taquitos although connoisseurs distinguish the two depending on whether the tortillas are made with flour (flautas) or corn (taquitos).
Churro - CHOO-rr[trilled]-oh
Learning how to trill the double Rs in Spanish can be tough, but if your reward is warm, cinnamon- and sugar-covered fried dough you might be more willing to make the effort. The trill is a rolling of the tongue against the roof of the mouth, but some people are in fact not genetically predisposed to move their tongues this way. The long, thin cylindrical cruller-type of pastry is often dipped in melted chocolate, hot cocoa, or even eaten for breakfast with coffee or tea.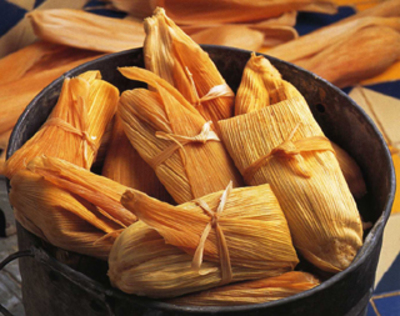 Tamales - ta-MAH-lays
Again, the "le" ending is pronounced as "lay" while the "A's" are both soft vowels following hard consonants. Best served hot from a tamalera steamer, tamales consist of soft corn masa mixed with a meat like chicken or beef and salsa, and are then wrapped and steamed. Usually the masa is wrapped in a corn husk but tamales can also be found wrapped in banana leaves - those usually appear as a fat, square package, often tied with twine.
Barbacoa - bar-bah-KOH-ah
If you can, roll the "R" before any consonant, but not as long as a double R. If you're thinking this sounds like "barbecue," you are right, but Mexican and Caribbean barbecue is usually not done on a grill but rather steamed inside a pit with hot coals. The meat is generally beef often cuts from the head, like cheek or lamb or goat.
Mole - MOH-lay
Like chiles rellenos, mole is associated with the town of Puebla, a few hours from Mexico City, but has many regional variations. Though it would seem as if the menu is suggesting you order a birthmark, mole, pronounced "MOH-lay" not "MOHL," is a type of sauce most often served atop chicken or turkey. One of the most common types, mole poblano, contains about 20 different ingredients, including ground chili powder, cinnamon, cumin, coriander, and unsweetened cocoa powder, which helps give it